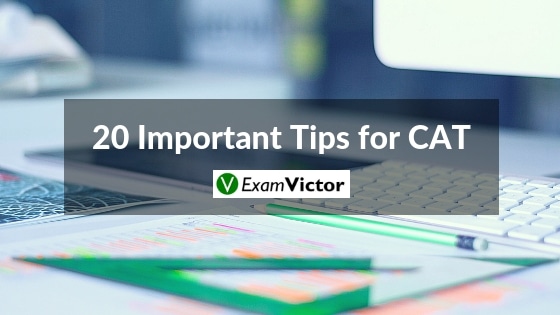 Last Updated on Sep 19, 2020
CAT is the gateway to admissions into all 20 Indian Institutes of Management (IIMs). The level of competition is super-high for the exam with over two lakh (2,00,000) aspirants competing for around 5,000 seats in the premier institutions. The IIMs are extremely selective. In fact, Bloomberg famously reported that it is easier to get into Harvard, than to get admission at IIM Ahmedabad! Given this insane level of competition, we at ExamVictor thought we could help the student body by compiling a list of the most effective tips and tricks for CAT. Bear in mind, some of these are 'secret' tips - stuff we normally only share with our students who have joined our online course program. Read on to find out more!
The Common Admission Test [CAT] has three sections:
Verbal Ability and Reading Comprehension [VARC]
Data Interpretation and Logical Reasoning [DILR]
Quantitative Ability [QA]
To prepare for this exam, here are some of the best tips and tricks we have found:
1) The 500 hours:
If there is just one thing you take away from this article, let it be this. We have found, reliably and repeatedly, year after year - even for an average student, about 500 hours of diligent study/practice is sufficient to get 95%ile+ in CAT. If you study 4 hours per day, that is 125 days i.e. just over 4 months. Most people prepare for a year, which means a good score is within reach of anyone. So why doesn't everyone score well? The difference, believe it or not, is diligence.
Daily practice is a must to clear CAT. You should have a proper plan to follow each day. Make achievable plans. Do not go over the board and set goals which are difficult to achieve. Practically possible schedules can be followed religiously.
2) Do Not Follow Rigid Strategies:
Avoid taking suggestions which you feel will not work for you. Someone else's strategies and plans are not always suitable for you. Always work with some flexibility. Do not deviate from your goal but keep some room for minor changes. You should not follow the routine told by someone blindly. Make changes according to your requirements.
3) Revise the Concepts Regularly:
Revision plays an important role. It becomes very difficult to recall the shortcuts learned at the time of the exam. Studying a little bit every day results in better learning than waiting to cram at the last minute. Basically, pace yourself. Your brain will thank you. So, plan to study a little bit every day to reach your goal. 10 hours of studying over 10 days is much more effective than 10 hours in one day. CAT demands proper revision to fix the things in mind.
4) Concept Clarity:
It is believed that shortcuts and cramming would help cracking CAT. But CAT is not at all about mugging up things. It tests your concepts. So, it becomes indispensable to understand the concepts deeply.
5) Plan for breaks:
This might seem like the greatest part of the schedule. Plan to take short breaks frequently – at least 5 minutes every hour of studying. Studying too much can actually be counterproductive – a long study session can be wasteful. You get bored, and learning slows down. Breaks make you more productive – you'll remember the material better. In fact, people are more likely to remember things from the beginning and end of each study session rather than the middle.
6) Take Sharp Mock Test Series:
Taking sharp test series is one of the most important elements in the preparation. Search for some really good series that will ensure a good score in the CAT.
7) Do Not Forget to Analyze Test Performance:
Taking tests would not mean anything if you do not ruthlessly analyze it. You should find out the weak areas and work upon them. Your performance should improve with every new test you take.
8) Do Not Blindly Trust Coaching Institutes:
You should do a proper research before enrolling yourself in any institute. Make sure the institute provides all the required materials and guidance. Clarify your doubts well in time.
9) Offline or Online Coaching:
You should figure out that which mode of coaching will work best for you. Both of them have their positive and negative sides. Compare both the areas and choose wisely.
10) Quant Trap:
Do not fall into the 'quant trap'. This refers to the older idea still followed by coaching classes that CAT Quant is the toughest part of the exam. No longer true. No need to keep focusing on ultra-tough quant problems when CAT has moved on.
11) Balancing Study with Personal Life:
It is foremost to strike a balance between your personal life and study hours. Stick to your schedule. Do not overexert yourself by studying for long hours. Take breaks in between. Healthy living improves the brain and memory. The better you take care of yourself, the more effective you will be at studying and during class.
12) Do Not Give Up in the Middle:
There comes a point when you are really panicked and want to quit. But, you should still work for it. Going halfway and coming back would not give you anything. Try and attempt. You should keep doing hard work. Efforts matter. You will learn and grow.
13) Note-taking strategies:
Take complete notes. Write down a summary of the important ideas. Take the best notes possible when in class, because it forces you to stay alert. Use abbreviations to keep things memorable.
14) Focus on the mental calculation:
Sometimes, the on-screen calculator can drag you behind, especially for easier calculations. For the remaining time, try solving easier calculations in your mind while practicing the mock drill.
15) Make DILR your key to success:
The DILR (Data Interpretation - Logical Reasoning) section has equal weightage as the other two sections. However, it can pave the way for your success and help you achieve your desired score as it can often be done faster than your competition. Practicing the DILR questions over and over again will help you get familiarised with a range of problems and enable you to crack this section with a high score.
16) Comprehensive English:
In English, take note of the salient points in reading comprehension. Of course, nothing beats speed; but you can find a handy trick is remembering key lines and extrapolating from them.
17) Avoid the 'Speed Breakers':
Such questions are best avoided initially if you lack time; it is better to mark the questions initially using the option that the test interface provides and return to them later if there is time left over.
18) Use the Technology available in a Computer-based Test Interface:
While many candidates are still apprehensive of a Computer-based test interface, the technology can actually help you. For example, the candidate can check whether he has attempted enough questions in the given time limit to clear the sectional cut-off. The technological feature of the 'Review' tab helps here-clicking on this provides you a quick snapshot of how many questions you have attempted, how many you have left out etc. If you have clearly attempted too few questions, speed up and try and do a few more in the given time to clear the sectional cut-off.
19) Last Month Preparation:
Last month is for revision. Do not start to mug up everything in the last month rather prepare well in time and relax and revise before one month of the exam. Take care of your physical and mental health. Be prepared to take the exam. Be positive about things.
20) Last day preparation:
Reach well before time for the exam. You will be barred from the exam if you arrive late. Don't forget to carry the print out of your admit card. Carry the original copy of any ID proof.
 I hope these points mentioned above are helpful to you. Also, do not forget to share your views in the comment section below. To get Online Coaching from the best faculty do check ExamVictor's Online CAT Course by clicking on the link given.