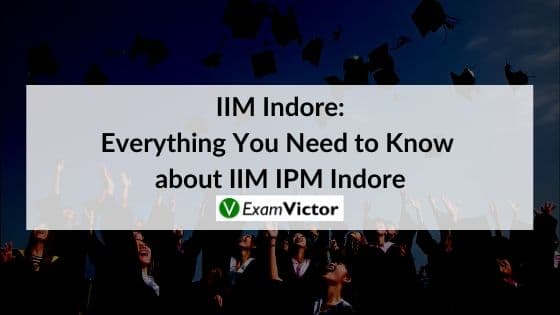 Last Updated on Oct 22, 2020
Launched by IIM Indore in 2011, the five-year Integrated Programme in Management (IPM) is the first of its kind in India. The programme is recognized by the Association of MBAs, London (4th and 5th Year). It is a unique and creative programme.
This course is meant for young students with managerial and leadership aspirations. The IPM course at IIM Indore seeks to attract young students, and develop them as outstanding leaders through a world-class education IPM focuses on students who pass out of class XII/Higher Secondary.
IPM has a diversified course structure. You'll get to learn subjects that not only add to your academic score but your personality as well. The core subjects are Maths, Statistics and Economics which are taught in every term.
Apart from that, it has courses running from programming languages to electives like performing arts and foreign languages. We cannot find of any other course which has as wide a range as this course.
It gives you an opportunity to study in an IIM right after 12th and without taking CAT Exam. No matter how much people value your potential and passion but an IIM tag does matter. And getting a 5 years long time to spend in IIM Indore, is a big thing. This time changes a lot of things in and around you.
Being under the guidance of the experienced faculty of an IIM for five long years makes a lot of difference. If you plan to do MBA in the long run, take your first step towards it by applying for IIM IPM course. The first three years will be the base disciplines and the last the two years of the programme are at Post Graduate Level. These two years are the same as that of the PGP Programme.
In addition, students who are preparing for CLAT should almost certainly be writing the IIM IPMAT exam. This is because the syllabus for IPMAT is very closely related to that of CLAT. Hence, without any additional effort, an alternate career path gets opened up.
IIM Indore IPM Program's Mission:
To produce relevant, socially-conscious managers and leaders with a foundation of world-class education in social sciences followed by management education
.
Learning goals for the first three years of the IIM Indore IPM course:
The IPM at IIM Indore will enable students to demonstrate:
 Language skills
 Oral communication skills
 Knowledge of foundational subjects for management studies
 Awareness of ethical understanding
 Physical well-being
Learning goals for the last two years of the programme:
Last two years of the programme are at Post-graduate level and the IPM students go through the same set of courses as the PGP programme. Thus, the learning goals for these two years are the same as that of the PGP Programme. These goals are:
 Enable students to understand the relevance of context in business
 Develop social consciousness
 Develop critical thinking skills
 Inculcate integrative thinking ability
 Promote interpersonal awareness and ability to work in groups
 Enable students to learn how to apply the basic principles of communication
 Develop competence in quantitative analysis
 Prepare business leaders with a sound understanding of ethics
The Programme consists of 15 terms spread over a period of 5 years, with each year having 3 terms of 3 months. IPM is in two parts. The first three years build foundation disciplines, and the last two years focus on management.
The foundation has three major elements:
Courses in Mathematics, Statistics & Economics build analytical rigour
Courses in Psychology, Sociology and Political Science along with courses in Economics provide an understanding of the core disciplines of management studies
Courses in Humanities, Literature and Fine Arts provide breadth and perspective
A combination of analytical rigour and wide exposure equips IPM students for leadership roles and positions of responsibility in different sectors. After 3 years of intensive study of foundation disciplines, the IPM students train as managers along with the students of the Institute's 2-year Post Graduate Programme in Management (PGP).
They undertake the same course package in management studies in 4th and 5th year. IPM students need to complete a social internship at the end of 3rd year, and a business internship between 4th and 5th year. This experiential learning inculcates leadership qualities in them and refines their managerial skills further.
The Indian Institutes of Management Act 2017 came into force from January 31, 2018.
Subject to approvals, participants enrolling in IPM 2018 will be eligible for an award of a dual degree on successful completion of programme requirements
.
A Sample of Courses Offered in First 3 Years in the IIM Indore IPM Course
Mathematics, Statistics, Economics
Foundation Courses in Maths & Statistics
Game Theory
Optimization
Stochastic Modelling
Spreadsheet Modelling
Mathematical Modelling
Micro and Macroeconomics
Indian Economy
Money, Banking and Finance
Econometrics
International Trade
Psychology, Sociology, Political Science, Foundations of Management
Introduction to Sociology & Psychology
India & World Politics
Public Administration
International Relations
Business, Government and Society
Business History
Principles of Management
Others
Humanities
Literature
Languages: English, French, Spanish, German
Communication & Presentation Skills
Dance, Music
A Sample of Courses Offered at PGP Level in the IIM Indore IPM Course
(Same as regular PGP Curriculum)
Communication
Economics
Finance & Accounting
Humanities & Social Sciences
Information Systems
Marketing
OB & HR
Operations Management & Quantitative Techniques
Strategy
Rural Immersion Programme
Himalaya Outbound Programme
Industry Visit Workshop
Other Optional Workshops
Fees and Accommodation
As of writing this post (in late 2018), the course fee for resident Indians for the first three years of the IPM is Rs. 4,00,000/- (Rupees four lakh) per annum and Rs. 6,00,000/- (Rupees six lakh) per annum for Non-Resident Indian (NRI) and Overseas Citizen of India (OCI). Course fee for the fourth and fifth years would be as per prevailing Post Graduate Programme in Management (PGP) fees. The course fee includes lodging, access to lectures, internet facilities and library.
Accommodation would be arranged on sharing basis for the first three years of IPM. Single room accommodation would be made available for the fourth and fifth years of the Programme.
Internship
Internships are an important part of a business student's growth and exposure. By completing internships, a student is able to get a flavour of the real-world experience. This helps them make better decisions on their eventual career paths.
IIM Indore is aware of an institute's role in shaping the thought processes of its students. Each IPM student has to complete at least 2 internships in their 5 years at the institute. Many students are able to complete more as well. The IPM students are required to complete a social internship at the end of year 3.
In addition to the Social Internship, IPM students do a business internship along with the PGP students between years 4 & 5.
Selection Process
The selection process for the IIM IPM course is as follows:
IIM Indore conducts an online all-India examination called the IIM IPMAT (please refer to our detailed post on the IPMAT for more details)
Shortlisted candidates appear for personal interviews with IIM Indore professors
The interview judges your level of confidence, communication skills, general awareness, persuasion skills and knowledge
Selection is on the basis of marks in the IPMAT exam and performance in interviews.
IIM Indore admits about 120 students to the IPM Program every year.
Faculty Resources
C IPM students are taught by a mix of resident and eminent visiting faculty, resource persons from renowned colleges/institutes and industry experts.
The Communications Area at IIM Indore is the largest Core Communication department across the Indian Institutes of Management, which reflects IIM Indore's unique position as the only IIM that currently offers flagship programs at the undergraduate, postgraduate, doctoral and executive levels. 

The teaching and research profile of current Communication faculty members recognizes the growing and diverse needs of management education. The Area thus comprises faculty members from diverse teaching and research backgrounds including the domains of Business and Professional Communication, Linguistics and Literature, Media and Communication Studies, Cultural Studies, Gender and Diversity Studies, Film, Theater and Visual Studies. 
The Economics department at IIM Indore is engaged in a variety of activities. The department is significantly involved in teaching in the integrated programme (IPM) where the curriculum is benchmarked to the best of three-year Economics honours programmes in India and abroad. The other significant commitment includes teaching foundation and elective courses in the two-year MBA and Executive programmes. 
The department has expertise in almost all the major areas in Economics such as Applied Microeconometrics, High Dimensional Econometrics, Game Theory and Mechanism Design, Choice Theory and Welfare Economics, Productivity and Efficiency analysis, Development Economics, Poverty and Inequality, Institutional Economics, Environmental Economics, Formal and Informal Labour markets, Migration, Direct and Indirect tax, International Trade, Structural Transformation and Economic Growth, Fiscal Federalism and Regional Economics, International Finance and Banking, Monetary Economics and so on. 
Student Activities
Apart from academic programmes, the IPM participants are exposed to various extra-curricular activities in order to inculcate in them leadership qualities and managerial skills. The IPM participants have formed several Clubs/Committees through which they complement their academic activities.
IIM Indore students participate in a wide range of extra and co-curricular activities which include IRIS (The Annual Management & Cultural Festival) and Utsaha (Rural Marketing Fair). They also have The Himalayan Outbound Programme.
Strong Student Exchange Programme:

 

IIM Indore has exchange tie-ups with several prestigious international business schools. A large number of students visit these business schools and complete one semester there.
Summary
In this post, we have explained about all the things you need to be familiar with IIM Indore's IPM Course. As you can see, it is a valid option for any students preparing for CLAT. We have provided a detailed information on the Course Structure, Fee Structure, Accommodation Facility, Internships, Selection Process, Faculty Resources and Extra Curricular Activities. IIM Indore enjoys a good reputation, delivers quality education and groom their students really well. Hope you liked this post. Share your views in the comment section below.
You can also find our Course for IIM IPM in the link below.
IIM Indore IPM Course
For posts related to IIM IPM click on the links below.
Life of IIM Students
IIM Indore: IPMAT Syllabus, Pattern & more