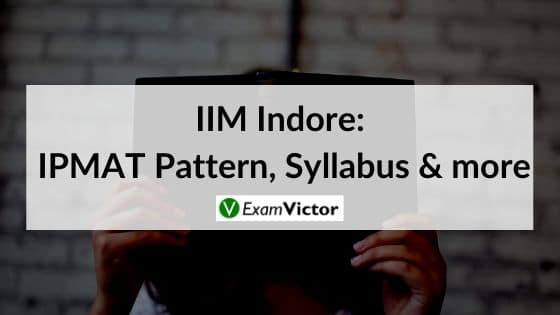 Last Updated on Nov 11, 2020
Integrated Program in Management (IPM) started in the year 2011 by IIM Indore. As of now, IIM Indore is the only IIM in the country to offer such a programme after class 12th. IPMAT is the official entrance test for admission to the desiderated IPM program after 12th. IPM is an integrated dual-degree course (Bachelors + Masters) in Management. The national level test is a gateway for admission to this 5 year Integrated Program. The examination is conducted in computer-based mode and is held in May.
IPMAT Eligibility Criteria
Candidate must have secured 60% in both Class 10th and 12th to appear for IPMAT. The candidate must not be more than 20 years of age as on July 31.
Selection Procedure
Aspirants must fill up an application form which will help understand a student's skill in academics as well as co-curricular activities.
The students then need to sit for an objective type entrance exam called the Aptitude Test (AT). Shortlisted candidates then appear for Written Ability Test (WAT) and Personal Interviews (PI). Students are selected on the basis of overall performance in the Aptitude Test (AT), Writing Ability Test (WAT) and Personal Interview (PI).
IPM Exam Pattern
 IPMAT is conducted in an online mode. The online mode was introduced for the first time in 2016. IPMAT exam pattern is as follows:
IPMAT is an objective exam
Candidates need to select only one correct answer from the options provided along with the questions
The exam paper consists of 100 questions
The exam is of 400 marks
The duration of the exam is 2 hours
Every correct answer carries 4 marks and there is a negative marking of 1 mark for every incorrect answer
The sections are time bound. The duration for Quantitative Ability is 75 minutes and for Verbal Ability is 45 minutes
IPMAT will be divided into two sections:
1)  Quantitative Aptitude, Data Interpretation & Logical Reasoning
2) Verbal Ability
AT consists of two sections with a total of 100 questions. The duration of the test is 120 minutes. Each question carries 4 marks and each incorrect answer has a negative marking of 1 mark. This is illustrated with the help of a table below.
IPMAT: IIM Indore IPM Syllabus
As we have already mentioned that IIM Indore IPMAT exam paper has two sections we have provided a list of topics covered under these sections.
Section 1: Quantitative Aptitude, Data Interpretation & Logical Reasoning
Quantitative Aptitude
Number System
Percentage
Simple Interest and Compound Interest
Profit, Loss & Distance
Average
Time and Work
Ratio, Proportion & Variation
Time, Speed and Distance
Sequence and Series
Mensuration
Permutations and Combinations
Probability
Equations
Logarithm
Geometry
Coordinate Geometry
Matrices and Determinants
Data Interpretation
Basics of Data Interpretation
Data Sufficiency
Practice Exercise on Data Interpretation
Logical Reasoning
Sequencing and Arrangement
Team Selection
 Section 2: Verbal Ability& Reading Comprehension
Reading Comprehension
Para-jumble
Idioms and Phrases
Fill in the Blanks
Para Completion
Antonym, Synonym & Confusing Words
IIM IPM Syllabus – Section wise Weightage
Application Form
The application form for IPM exam is usually released in the month of March on the official website of IIM Indore.
The application process for the IPM exam is completely online. Applicants have to register online by filling the form, uploading the required documents and depositing the exam fee.
IPMAT Exam Centers
Candidates can select their preferred exam centers while filling in the application form. However, the exam center finally allotted to the candidate will be mentioned on the call letter. The institute has the right to change the exam center according to the availability of seats.
IPMAT 2018 was conducted at the following centers:
Agra
Dehradun
Jaipur
Noida
Ahmedabad
Ernakulam
Indore
Patna
Bengaluru
Faridabad
Kolkata
Pune
Bhopal
Ghaziabad
Lucknow
Raipur
Bhubaneswar
Gurgaon
Mumbai
Ranchi
Chandigarh
Guwahati
Nagpur
Varanasi
Chennai
Hyderabad
New Delhi
Visakhapatnam
Summary
Here in this blog post, we have explained all the major details about the IPMAT Exam conducted by IIM Indore. Elaborated information regarding  Eligibility Criteria, Selection Process, Exam Pattern and Syllabus and Exam Centers is given. Topics under two sections of the Syllabus are also clearly shown with the help of Table Diagrams. There is an Infographic which shows the Selection Process clearly and a full list of 28 Exam Centers is also provided. If you like this post, share your comments in the section given below. Also, you can check related posts through the links mentioned below
All you need to know about IIM Indore IPM
Life of IIM Students
For IIM IPM Course click on the link below.