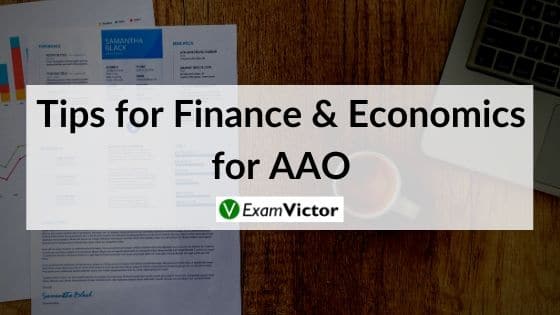 Last Updated on Oct 30, 2020
After completion of SSC CGL Tier-1 exam, the next big question is which topics to cover for the Tier-2 exam. In Tier-2 there are four papers. First two papers of Maths and English are compulsory, while third and fourth are for special posts. Here, we will discuss preparation strategy for Finance and Economics papers for Assistant Audit Officer (AAO) post.
The syllabus of this paper can be divided into two main sections, Finance & Accounting and Economics & Governance. The level of the topics is of graduation level and the knowledge of this paper is a must for Assistant Audit Officer (AAO) post.
Points to remember while preparing for Finance and Economics Exam:
Read Class 11th and 12th NCERT books on Economics and Accounting. It will help you in understanding the basic concepts of each topic
Once you complete the basic concepts, go through ICAI study material which is easily accessible from their website. Read all the important topics and practice MCQ given at the end of each chapter
Don't go in too much depth about any topic, just cover the basic characteristics and definitions
Practice numericals in accounting as it is a very important section
In accounting, rectification of error is quite difficult for non-accounting background students but not impossible to understand
After covering all the topics, start attempting mock tests and also identify your weakness and strength and work on the improvement
Summary
In this blog post, the focus is on building strong basics by having root knowledge of topics. After clearing the concepts, practice wholeheartedly to get good results.
 if you liked this article and want to know more about our SSC CGL Course then please click on the link given below.
Looking for SSC CGL Exam Coaching?
You have come to the right place! We offer comprehensive online coaching for SSC CGL. We also offer comprehensive study material for these exams which you can access online or get at your doorstep through speed post.
Click Here to Know More