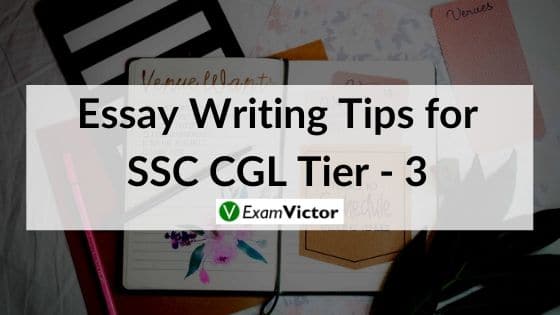 Last Updated on Oct 31, 2020
After qualifying Tier 1 & Tier 2  of SSC CGL Exam, you should appear for the Tier 3 Exam which is a descriptive test. The Staff Selection Commission has replaced the interview or personality test with a new level where they test writing skills of the candidates.
The offline pen and paper based exam also test your ability to form opinions and arguments on certain topics. This could be done by Essay Writing or Letter Writing. While preparing for writing skills you can also Click here to get tips on how to write a Precis for SSC CGL Tier3
 The Exam also aims to evaluate your grammar and how you convey your ideas in a precise manner. If you would like to get tips on writing a Letter for SSC CGL Tier3 click here. Here, in this blog post, we provide you the essay writing tips for SSC CGL.
How to Prepare for Essays?
You can prepare for essays for SSC CGL Tier 3 by reading and writing regularly
Read as much as you can and analyze each article very deeply
Reading editorials from the newspapers can help you in developing opinions and expanding vocabulary
What to read?
The articles you read must cover a range of topics including –

Social Issues

 

like Poverty, Education, Equality, Social Evils (Child Marriage, Dowry, Rape)
Finance & Economy

 

(Demonetization, RBI Rates, GDP Rates)
Politics, Schemes & Governance (Upcoming and recently concluded elections, coups, revolutions and agitations, political deaths)
Technology (UPI, Payment Wallets, Vaccines, Social Networks)
Sports (Recent wins, retirements)
Environmental Concerns like Pollution, Overpopulation
Geopolitics (Chinese aggression in the Indian Ocean, Syrian Refugee Crisis)
 Also, make sure you are up to date on facts. It is these facts that will help you frame and write a better essay. You don't need to go into too many details but you need to be aware of the basics. So make sure you are still reading up on current affairs.
What Should Be the Structure of Essay?
Your essay writing for SSC CGL Tier 3 should be divided into 3 parts: Introduction, Body, Conclusion
Introduction and conclusion should be around 50 words each and body should have around 150-200 words
You can use SWOT (Strength, Weakness, Opportunities, Threat) analysis in it
Be balanced with your approach and don't write a one-sided essay
SSC CGL Tier 3 Exam requires a flawless essay as they are expecting you to be above the par. You can make your essay catchier by using some quotes by famous personalities.
Also, make sure that you write the correct quotes
Don't write unnecessary things in essays to make it lengthy. Remember that quality always matters than quantity
To know more about How to prepare for SSC CGL Tier-3 click here
In this blog post we have tried to provide you the best strategy for essay writing section of Tier-3, if you liked this article and want to know more about our SSC CGL Course then please click on the link given below: