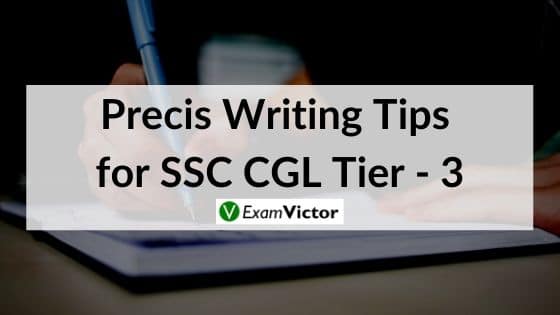 Last Updated on Oct 31, 2020
SSC CGL Tier-3 focuses on writing skills of candidates. So, we have provided a complete post which helps you to write attractive Precis.
Also, you can refer to our blog posts by clicking on the link given if you would like to take Tips on Essay Writing for SSC CGL Tier3 and Tips on Writing a Letter for SSC CGL Tier3
What is a Precis?
A Precis is a miniature summary of a passage in which you should retain essential points in your own words. The one aspect that you should keep in your mind is that you do not add any new information to it, but should retain the same opinions given by the author. As far as writing is concerned, one should write correct and effective points.
How to prepare for Precis Writing?
Keep in mind that Precis should be 1/3rd in length as compared to original paragraph
By covering the important points and leaving the unnecessary ones, you can write it in your own words
What should be the Structure of a Precis?
Closely read the paragraph and identify the central idea of it. It is important to retain the central idea and write according to that
Highlight the important points of the passage and make notes
Give a suitable heading to your Precis
Try to arrange important points in the same order in which they are given in the original paragraph
Be aware of the word limit given in SSC CGL Tier 3 paper and count them by making a rough approximation
Never express your thoughts and opinions in the Precis
Do not use abbreviations and slangs
In this blog post we tried to provide you the best strategy for Precis Writing section of Tier-3, if you liked this article and want to know more about our SSC CGL Course then please click on the link given below:
ExamVictor - SSC CGL Exam Course
Looking for SSC CGL Exam Coaching?
You have come to the right place! We offer comprehensive online coaching for SSC CGL. We also offer comprehensive study material for these exams which you can access online or get at your doorstep through speed post.
Click Here to Know More