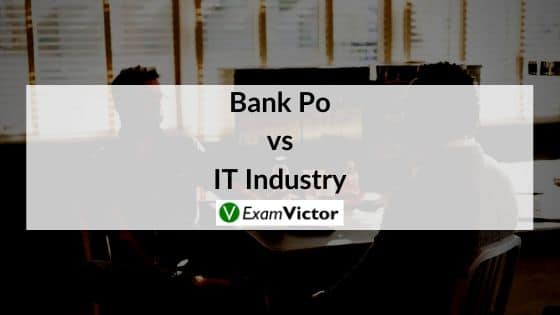 Last Updated on Oct 30, 2020
When we talk about Bank PO or Software jobs, both are perfectly good profiles. But one has to figure out which job suits best. Both the Bank and Software jobs involve hard work. These jobs not only depend on your aptitude but also your attitude towards the job.
Banks jobs will definitely provide you with a wider range as you don't just sit on your PC and work on your project but you also get to work with different clients and learn to handle a different level of issues every new day.
Remember before analyzing for a job, to analyze yourself and your interests. One should make sure they suit in that place which will help to perform better. Here we have compiled some experiences of people who have worked in both sectors.
Job Security
IT Industry has its limitations and the threat of job curtailment looms large over them. They need to perform and deliver in stipulated time like any other private organization and makes a computerized time-table for the candidates working

The opportunities are opening up in the IT Industry as well, but there always remains a risk of stability in these sectors, which is not the case with banking
The banking sector has recently shown a promising image and especially Indian banking market has encased the situation and managed to keep away from financial crisis. Hence the PO level job in any bank can turn out to be very fruitful in the future and provide career opportunities that can ensure the benefits in the time to come for the family and for self
Area of Interest
IT jobs have a requirement: You need to know how to code. If you are not from CS/IT engineering, you either slog endless hours to learn it or you would have to find another job pretty soon
On the contrary Bank PO doesn't have any specific requirements. You can be completely yourself and you will be considered. Everything there is to learn you learn it on the job. The only requirement is to clear the IBPS or SBI exam, which by the way every IT company also conducts – 'Aptitude exam'
Salary and Perks
The main factor that drives among all the candidates – Salary
A salary of entry-level PO is higher than that compared to other entry-level IT jobs. The CTC package of a probationary officer is easily around Rs 5-6 lakh per annum
Now add to this the perks offered by Public Sector Banks. All PSBs give you leased housing and allowances for things like newspapers, furniture and more
Almost 30-40% of the salary of an IT industry worker goes to pay his bills, rent & transportation. Compared to this, Bank POs are able to save more than 60% of the salary as their housing is taken care of
Growth Prospects
It takes around 10 years of blood and sweat to become a Mid-level Manager in an IT firm. Even then there is always a sword of uncertainty hanging over your faith
If you join as a probationary officer (PO) in PSBs you rise to become Branch Manager within 4-5 years and if you are fortunate enough, you can rise to the post of Chairman
We have provided a simple infographic table below for easy and better understanding. This will help you choose wisely between the two options.
Summary
In this blog post, we have provided you the factors to be considered by the applicant while choosing between Bank PO and IT Industry. We have talked about the main factors like Job Security, Salary, Perks, Growth Prospectus and more. ExamVictor has created an amazing and comprehensive course which addresses the entire requirements of IBPS PO exam and SBI PO Exam. If you like this post and want to know more about our course, then please click on the link given below.
Hope you liked this post. Share your views in the comment section below.
Looking for IBPS PO or SBI PO Exam Coaching?
You have come to the right place! We offer comprehensive online coaching for Bank PO. We also offer comprehensive study material for these exams which you can access online or get at your doorstep through speed post.
Click Here to Know More