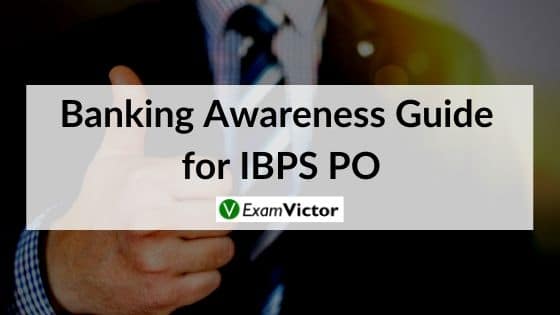 Last Updated on Oct 29, 2020
Follow the footsteps of great people like Chanda Kochhar(President-ICICI Bank) and Rajnish Kumar (Chairman-SBI) and enjoy an esteemed position in the lucrative market. Take your first step towards the acclaimed career by preparing for Bank PO exam. This exam is conducted every year by the government as well as the private banks for filling up the vacancies with young officers. 
IBPS conducts a common written exam for hiring Probationary Officers whereas a different exam is conducted by SBI for the same. Recruitment is done in three steps. The first two consists of written exam( preliminary and mains) and third step is the interview round. After these three rounds, merit list is made on the basis of marks scored by candidates.   The curriculum for this exam is framed in such a manner that a candidate's general awareness and aptitude both are tested.  These are divided as:-
Quantitative Aptitude

 

Logical Reasoning

 

Verbal Ability
To get through this prestigious exam,  one needs to be well prepared. All the sections should be covered in a systematic way.  You can refer to coaching centers and books. But,  we have all the study material is easily available online.  You can click the link below.
Online Course for IBPS PO
We have provided a table showing Syllabus for IBPS-PO Prelims and a Pie-chart showing the distribution of marks of each subject.
Students often face difficulties while preparing for 'Banking Awareness' for Bank PO exam.  We have provided a full guide on how can you go about it in a systematic and approachable way.  
So, the basic topics covered under 'Banking Awareness' are:-
Indian Financial System
Commercial Banking

 

Reserve Bank of India

 

International Banking

 

Institutional Banking

 

Non-Banking
Financial Companies

 

Investment and Exchange

 

E-banking and Payment Banks

 

International Financial
Organisation

 

Important Acts related to Banking and Finance in India
Cash Management

 

Public and Private Sector Banks
Capital Markets and Money Markets
Banking Terms and Schemes

 

Banking Concepts
Adding on to these, there are some other traits which are equally important to crack the exam in the first attempt. 
These are:-
Proper Planning

 

Study topic wise
Update yourself

 

Revision
Proper diet and Rest
Summary
In this blog post, we have provided a Guide on Banking Awareness for Bank PO Exam. We have given the list of topics under each subject for your convenience. Also, marks distribution is shown through a pie diagram.  There is a list of important topics under 'Banking Awareness', which you should definitely not miss.  You can check the link given to Prepare English for IBPS-PO
Hope you liked our post and please share your comments in the given box below.