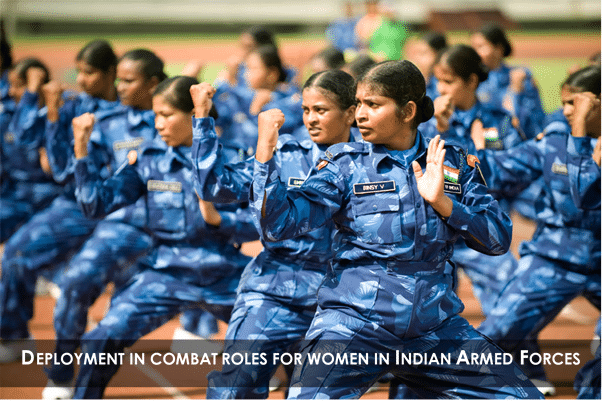 Last Updated on Nov 11, 2020
Deployment in combat roles for women in Indian Armed Forces
In 1992-93, when the Indian Armed forces started recruiting women, there was an overwhelming response of 1800 applications for a mere 50 vacancies. There has been no looking back since then. However, women were recruited only in the non-combat positions like medical, legal, signalling, educational and engineering divisions and are not offered combat roles for operational and logistical reasons.
More than two decades later, on June 05, 2017 – the Chief of Army Staff – Bipin Rawat, announced that the ball has been set rolling for induction of women in combat roles in the Armed forces. India has finally joined the relatively small list of countries who allow women in combat roles with Germany, Australia, Canada, the US, Britain, Denmark, Finland, France , Norway, Sweden and Israel being the other countries. According to a study conducted by Wing Commander Jasbir Singh Minhas (Retd.) & Dr. Nilesh Arora on the 'Combat Role for Women in the Indian Armed Forces' by taking feedback from 100+ respondents from the Army, Navy and Air Force, there is a consensus about hiring women in frontline positions.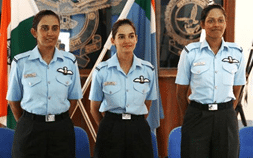 In 2016, the Government decided to open the combat stream for women in the Indian Air Force on a three year experimental basis. Three women, Avani Chaturvedi, Bhawana Kanth and Mohana Singh were recruited as fighter pilots for assessment and evaluation. They are now a part of the IAF fighter squadron.
Taking a cue from this move, the Navy and Army are also considering women in combat roles. According to the Chief, women will soon be inducted in military police before the final decision on their combat position is taken. On September 08, 2017, the Army announced induction of around 800 women as soldiers/ jawans as the Corps of the Military force in the Army chief's conclave. This would be done in a phased manner of 52 candidates/ year. In December 2017, the Navy announced deployment of 70 women officers, called Combat Aviators in their most sophisticated anti-submarine warfare aircraft, the US-built P-8I (I for India) Poseidon, and IL-38s, used to detect warships and submarines in the Indian Ocean. The Navy is also undertaking modification of future warships to include facilities suitable for women crew.
This is a path breaking move by the Indian Armed forces as women are walking shoulder to shoulder with men in almost all aspects of life. They have the courage, capability and emotional strength to handle combat as well as a man. Once the operational and logistical issues are dealt with, women can expect more combat roles in the Indian Armed forces soon.