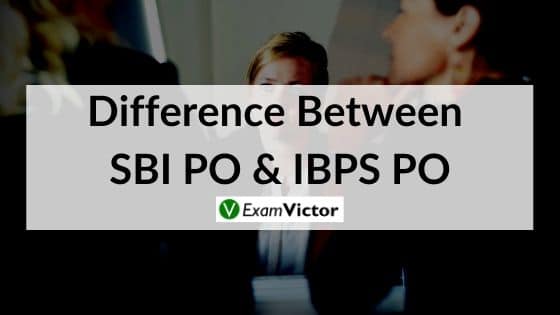 Last Updated on Oct 29, 2020
SBI PO Exam is always considered as the largest of all banks exam, the next in line is IBPS PO exams. Informally, the IBPS PO Exam is also called the Bank PO exam. Though the number of vacancies in the former is less than IBPS PO, yet there are many applicants for SBI PO. There are many factors associated with the huge number of applicant for SBI PO. In this post, we will discuss differences and similarities between SBI PO and IBPS PO. It is important to note that the IBPS is a nodal agency for recruitment of Probationary officer in 23 public sector banks except SBI.
There are a lot of factors that a candidate should be aware of while deciding between SBI PO and the IBPS PO. Some of the more prominent ones are as follows:
Designation

Bank PO - The candidates who join IBPS Banks are designated as Officer Scale-1 or Assistant Manager for 2 years of probation period.
SBI PO - A Probationary Officer in SBI Banks is designated as Junior Management Grade-1 Officer for 2 years of training/probation period.

Salary

Bank PO - 23700 – (980 x 7) – 30560 – (1145 x 2) – 32850 – (1310 x 7) – 42,020 
Here, Rs. 23,700 is the revised basic pay of Bank PO as applicable on 1st January 2016. Thus the new entrant in a Bank as PO is liable to get Rs. 23,700 as basic pay. Rs. 980 is the annual increment that a Bank PO will get and it will be applicable for a period of 7 years.
SBI PO - They are paid 4 extra Increments at the time of joining. We have explained more in the table below. As per the HRA offered by banks, you can take leased accommodation from the banks' side. (Ranges may vary from INR 10,000 to INR 29,000 per month).
Exam Pattern 

The paper pattern of SBI PO and Bank PO Exam tends to be very similar.
Bank PO -  In the Mains Exam, however, there have been a number of changes. These are discussed below.
Introduction of Descriptive Paper- Just like SBI PO 2017 Exam, IBPS introduced Descriptive Paper in its Mains Examination where candidates will be judged on their written skills. An essay and a letter will be given to candidates to write that will constitute 25 marks and that has to be completed in a time span of 30 minutes. The overall time allotted for each section has also been changed. No separate paper will be conducted for Computer Applications. The reasoning is teamed up with Computer Aptitude section and this entire section will contain 45 questions of a total of 60 marks.
SBI PO - The descriptive paper will be of 30 minutes duration with 50 marks assigned to the test of English Language. You will be tested on Letter Writing & Essay. You will be needed to secure passing marks to qualify the Descriptive Test, to be decided by the Bank. 
Perks Offered


Bank PO - Official Bank Accommodation/Bank Quarter are provided as a leased accommodation.
SBI PO - Leased accommodation range from INR 8,000/- in 'C' category Centers to INR 29,500/- in Mumbai Centre.

Travel Allowances


Bank PO - Employees can own vehicles from Bank's side instead of petrol bills. They can also stay at Banks' Guest Houses while visiting various places across India.
SBI PO - Probationary Officers can get traveling concessions while visiting places within India. The employees working with banks can take advantage of the bank guest houses available at various places across India.

Medical Benefits


Bank PO - The employees working for IBPS Banks are paid INR 8000 per annum for medical aid facility.
SBI PO - SBI offers 100% medical facilities to the employees and 75% to their family members.
Summary
On the whole, there is very little difference in the pattern, syllabus & way of preparation for the two exams. Our advice to candidates is to definitely prepare and write both exams. SBI PO offers a slightly higher salary and the exam is slightly tougher as well. IBPS PO on the other hand always has more recruitment, hence the chances of success are higher.
ExamVictor has created an amazing and comprehensive course which addresses the entire requirements of IBPS PO exam and SBI PO Exam. If you like this post and want to know more about our course, then please click on the link given below.
Looking for IBPS PO or SBI PO Exam Coaching?
You have come to the right place! We offer comprehensive online coaching for Bank PO. We also offer comprehensive study material for these exams which you can access online or get at your doorstep through speed post.
Click Here to Know More