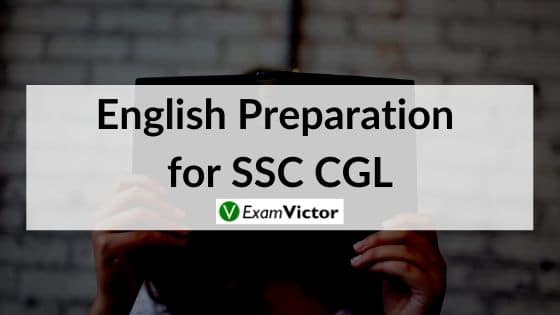 Last Updated on Oct 31, 2020
In today's competitive world that we live in, It has become difficult to survive without the Basic/Working knowledge of English Language. Gone are the days when we were young and we used to mug up answers and essays and get enough marks, and it was a happy story altogether. But now when you are all preparing for competitive exams like BANKING, SSC, UPSC and others, the language has started to haunt all of us equally. People are doing their best to learn the English language, that is, mugging up all the time, but for no avail.
SSC CGL Tier 1 includes Reasoning, English, Quantitative Aptitude, and General Awareness while Tier 2 includes Quantitative Aptitude and English.
So, English is covered in both the Tiers hence, making it an important subject. So, stress should be given to prepare this subject with a proper strategy.
Before we start, let's take the warning seriously that there is no shortcut to learn English. We get to hear from so many students asking on how to prepare English properly in just 7-10 days. Our answer remains the same as that 'no language can be mastered in just 10 days'.
The English language demands a lot of reading. Any language in the world demands a lot of exhaustive reading. READING is the SOUL of The LANGUAGE. We're all constantly looking for shortcuts to success. You might succeed by applying these tricks but it will not take you far in life.
Here are 20 things (in no particular order) you can do to improve your English:
Don't be afraid to make mistakes. Be confident. People can only correct your mistakes when they hear you make them.
Practice every day. Make yourself a study plan. Decide how much time a week you are going to spend studying and stick to it. Establish a routine.
Practice the 4 core skills: Reading, Writing, Speaking and Listening. They all need to be worked on for you to improve.
You will find words easier to remember if you try to remember an example sentence using that word rather the word on its own.
Give yourself a long-term goal. Focus on working towards it. Give yourself short term goals too and reward yourself when you achieve each one.
Know what works best for you. Think about what methods have been successful for you in the past and stick with them.
Get help! If you don't understand something you've got to ask someone. Ask your teacher, classmates or friends for help. You can always write to us in the comment section or email, we'll help you surely. Learn English with a friend. You'll have someone you can practice with and you can motivate each other to study.
Review! Review! Review! Make sure that you take time to review things you have studied in the past.

It

's not a good idea to study on your own for more than 30 minutes at a time. Take regular breaks, get some fresh air and stretch your legs.
Newspapers are a good place to find passive constructs. Read through an article and see if you can find the passive sentences. Read school textbooks. These books are specially written for your level. Read a whole novel. You can do it! You'll feel great after finishing it. Children's books have easier words and are a good alternative to graded readers.
For a word you don't understand in a sentence, look at the other words around it. They will give you a hint. Try to guess the meaning from the context. Use an English/English dictionary as it will help you to keep thinking in English and not translating.
Use English whenever you can. It's as simple as that!
Don't translate into English from your own language. Think in English to improve your fluency. Talk to yourself in front of a mirror.
Keep an English diary or journal. Start by writing a few sentences a day and then get into the habit of writing more. Write down the new words you encounter on a daily basis . In some time you'll develop your own VOCAB Dictionary. these words in your own diary will stay forever with you and will help in the Exams.
Don't give up! Stay positive! Sometimes you will feel that you aren't learning quickly. Everyone feels like this, don't worry about it. You'll get there in the end. Enjoy it! We learn more when we are having fun!
Carry cue cards with you. These are small cards on which you can write new words. You can pull them out and look at them whenever you have a free minute. Find a comfortable, peaceful place for quiet study. You need some place where you can focus 100%.
Debate. Discuss topics in a group. Each person should choose a viewpoint (even if you don't agree with it) and debate on it within the group. Make sure you get your point across. Learn to listen actively. Active listening will help you in the classroom and it will help you get more out of and contribute more to, group study sessions. In your GD/PI for BANK Exam, you'll benefit a lot.
Watch English movies and TV series, and definitely watch them with subtitles as it will increase your reading speed. Also, this way familiarity with language goes up.
 Read graphic novels in English if reading regular novels appear time consuming or boring.
You are never too young or too old to start learning English. Don't make excuses not to learn. What are you waiting for?


Summary

From this blog post, you will understand how things can be taken towards the correct path and can help you improve your hold on English. The above-mentioned points can mostly be adapted and will make me much more Confident.
If you liked this article and want to know more about our SSC CGL Course then please click on the link given below.
Looking for SSC CGL Exam Coaching?
You have come to the right place! We offer comprehensive online coaching for SSC CGL. We also offer comprehensive study material for these exams which you can access online or get at your doorstep through speed post.
Click Here to Know More