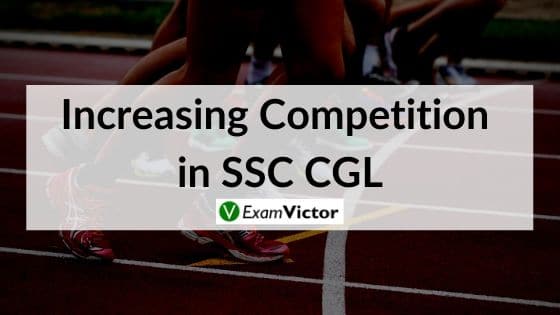 Last Updated On Oct 31, 2020
We know how much people keep a tab on latest government jobs, especially at the graduate level. While a government job helps to build a stable career, it is also loaded with responsibilities.
Staff Selection Commission (SSC) is a Government of India organization involved in recruiting staff at multiple levels in various ministries and Central Government departments, including their subordinate offices. Every year, the commission conducts a graduate level exam, commonly known as SSC CGL. This exam is one of the most coveted exams in the country.
The popularity of this exam has increased manifolds in last 5 years. Every year around 15 lakh candidates appear for SSC CGL Tier 1 exam, which is more than the population of countries like Cyprus and Mauritius.
Let's discuss, why this love for SSC CGL is growing:
Job safety: Central government jobs are secure and recession proof. The Indian government is seen as a stable employer, unlike many private sector establishments, where hire and firework culture is there. Job prospects in public sector are relatively unaffected by the demand and supply forces prevailing in the job market.
Financial stability: Working in a government job comes with complete financial stability. The government is not expected to default on salary payments that are due to its employees. The payments are made on time and one does not have to worry about the salary not getting credited into the account.
Salary increments: Pay commissions regularly review the salary structure offered to Central Government workforce. Salaries in public sector go up, whenever the recommendations of a pay commission are implemented. In the recent past, these recommendations have been employee-friendly, thereby making Central Government jobs even more lucrative.
Timely promotions: Seniority is a crucial factor in Central Government promotion policy. Due importance is given to the time that one has spent in the job. Employees get fairly rewarded on the basis of the experience they possess.
Work-Life balance: Cracking SSC CGL ensures that you will get into a job which offers wonderful work-life balance. Unlike the private sector, wherein performance on the job is of utmost importance, a Central Government job gives you ample time for personal enrichment.
Equal opportunities: Central Government is an equal opportunity employer in the real sense. It does not discriminate on the basis of caste, creed religion, ethnicity or any other parameter. The recruitments made are seen to be unbiased and transparent. You have to prove your merit in a competitive exam in order to get selected.
Social status: A person employed in Central Government enjoys a dignified standing in society. A lot of candidates attempt SSC CGL as they are not just after a well paying job but after the social esteem associated with the post. For many candidates taking SSC CGL is the first step towards their dream of becoming a gazetted officer some day.
Career progression: SSC keeps conducting grade-wise departmental competitive exams for existing Central Government staff members. This provides them with plenty of growth prospects. Superior performance in these exams can set a person on a path of accelerated career progression.

So, know more about SSC CGL Tier1 and Tier2 here

Summary

So, as you can clearly interpret that we have mentioned the reasons for growing competition in SSC CGL is that you get everything balanced in terms of Job Safety, Financial Stability, Increments in Salary, Timely Promotions, Balanced Work Life, Equal Opportunities, Social Status as well as Career Progression. It is a full package of facilities any SSC CGL aspirant would wish to get. All of the above things come with a great amount of responsibility and the people who crack the exam do justice to their positions.
If you liked our Post and would like to know more about SSC CGL Course, you can click on the link below.
Looking for SSC CGL Exam Coaching?
You have come to the right place! We offer comprehensive online coaching for SSC CGL. We also offer comprehensive study material for these exams which you can access online or get at your doorstep through speed post.
Click Here to Know More