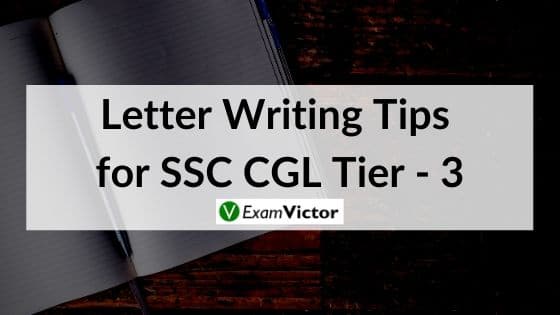 Last Updated on Oct 31, 2020
Every CGL aspirant appearing for Tier-3 descriptive test is recommended to have good writing skills as the main focus is given to this area. The offline pen and paper based exam also test your ability to form opinions and arguments on certain topics. This is done by Essay Writing or Letter Writing. This exam also tests your grammar. Here, in this blog post, we provide you the letter writing tips for SSC CGL.
Click on the links if you would like to take some Tips on Precis Writing and Tips on Essay Writing.
Keep the following points in your mind while writing a letter:
Write a letter in formal language to present your views
Try to avoid short forms and slangs
Good format and content are required
What should be the structure of a letter?
Follow the basic structure and try to practice in the same format
This will test your vocabulary and grammar
Introductory paragraph, Main body and closing body should be in proper place as it will play a major role
Give proper space between the two paragraphs and use punctuations wherever needed

Practice both types of letter i.e. 

formal and informal
Letter format outline is as follows:

Heading
Salutation
Subject
Content
Designation
Summary
In this blog post, we have put emphasis on writing a letter for SSC CGL Tier-3 specifically. We have mentioned the important points to keep in mind while
for Tier-3 Exam. Also, types of letters are clearly mentioned. The basic structure of the letter is explained in a simple way.
If you want to know about Preparation Strategy for SSC CGL Tier-3 click here and if you liked this article and want to know more about our SSC CGL Course then please click on the link given below.
Looking for SSC CGL Exam Coaching?
You have come to the right place! We offer comprehensive online coaching for SSC CGL. We also offer comprehensive study material for these exams which you can access online or get at your doorstep through speed post.
Click Here to Know More