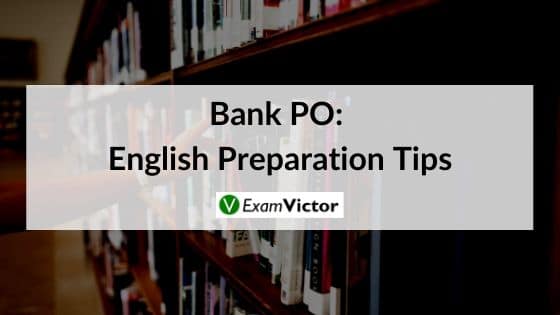 Last Updated on Oct 29, 2020
English Section is one of the most important sections in Banking exams.
It is easy to score in this section as it only requires basic knowledge. It does not require as much time as we give to other sections of IBPS Exam. Reasoning and aptitude part needs more hard work than English in  IBPS Exam. So, scoring maximum marks in English Section will help in securing good overall results.
IBPS PO English Preparation: Section-Wise Tips and Tricks
Reading Comprehension
Reading Comprehension in Bank PO English consists of a passage and questions based on the passage. As the paper is online, you should go through the questions first and then read the passage. Once you read the questions, you will get some idea about the answers.
Do regular practice with passage questions. Since passages are long, you need to improve your speed
First attempt questions which can be solved directly
Once you finished with them, go for the grammar part
Cloze Test
Cloze test is a type of comprehension exercise in which the reader is required to add words that have been omitted from the passage. This has to be done by filling the blanks in passages and comprehensions and choosing words in a running passage to maintain the sequence of various sentences in the paragraphs.
Read the passage thoroughly
Link the previous and next sentences
Be careful with noun, pronoun, verb, preposition, conjunction, article, and tenses
Eliminate options accordingly
Sentence Correction
Sentence correction questions are based upon the fundamentals or basics of English language.
For this part, you must know the basic rules of grammar
To improve scores in this part, you must be regular with their reading
Also, you must know the correct usage of words so that you can easily correct the sentences
Error Detection
This English section contains error detection. You will have to find spelling mistakes, grammatical errors, punctuation and others.
Candidates should be careful with grammar and should have a good understanding of sentence formation
This is one of the least time-consuming questions in the English section. So, try to solve these in the beginning
Understand the sentence formation rules and also improve your sentence formation
Para Jumbles
Para Jumbles are important for  IBPS English exam. In these questions, you have to rearrange the parts of sentences to form a meaningful sentence.
Read the sentences carefully and find what is being talked about in the paragraph
Try to find clues from pronouns, adverbs, article, definers, connectors and more
You should first arrange phrases and then add those phrases in a meaningful manner
Knowledge of sentence formation rules is a must
Expected Topic wise Questions
Reading Comprehension - 10 Questions
Cloze Test - 5 Questions
Para-jumbles - 5 Questions
Spotting Error - 5 Questions
Fill in the Blanks / Sentence Correction - 5 Questions
We have provided a simple infographic to make you understand English Syllabus & Topics for Bank PO using pie-chart, bar-graph and mentioning some important topics.
Summary
In this blog post, we have explained how different sections of English of IBPS PO Exam should be attempted. We have provided some tips which should be kept in mind while taking the Exam.
Hope you liked this post. Share your views in the comment section below.
Looking for IBPS PO or SBI PO Exam Coaching?
You have come to the right place! We offer comprehensive online coaching for Bank PO. We also offer comprehensive study material for these exams which you can access online or get at your doorstep through speed post.
Click Here to Know More