Click here to download the official LSAT India Guide
LSAT 2022 Dates Changed:
LSAT India Exam Dates 2022 - 
Law School Admission Council (LSAC) has postponed the dates of LSAT India 2022 of May-June session considering the postponement of Class 12 examination.
LSAT India 2022 examination will now be conducted from June 22, 2022 as per the revised schedule. Earlier, LSAC had conducted 

LSAT India 2022

 on January 15.
What is LSAT India?
Law School Admission Test (LSAT) - India is an entrance exam conducted by the Law School Admission Council (LSAC) for admissions to undergraduate and postgraduate law courses. The test is conducted to shortlist law aspirants for admission in undergraduate and postgraduate level courses offered at various law colleges in India.
LSAT India 2022 Highlights
| | |
| --- | --- |
| Exam Name | Law School Admission Test - India |
| Exam Frequency | Twice a year |
| Exam Mode | Online |
| Exam Duration | 2 hours 20 minutes |
| Accepting Colleges | 85 colleges |
| Official Website | https://www.discoverlaw.in/ |
LSAT India 2022 Important Dates

FAQs on LSAT India Dates 2022
Q. When will LSAT India 2022 be conducted?
A. The LSAT India 2022 will be conducted in two sessions. The first session was conducted on January 15, 2021. The second session will be held over five days, starting from June 22, 2022.
Q. When will the admit card of LSAT India 2022 be available?
A. The admit card for LSAT India 2022 is not likely to be released as the exam is to be held as an online home-proctored test.
Q. What are the exam day slots for LSAT India 2022?
A. The exam in January will be held over a period of 1 day only and in may the exam will be held over a period of 5 days.
Q. When will LSAT India 2022 results be declared?
A. LSAT Indis 2022 result date is yet to be announced for both the test cycle. But the tentative dates are first week of February 2022 for the January 2022 test and on first week of June 2022 for the May 2022 cycle.
Q.

 

What law courses are offered through LSAT India 2022?
A: The LSAT India 2022 scores can be used for admission to 3-year LLB, 5-year LLB and LLM programmes.
Q. When will LSAT India 2022 selection process be held?
A. The selection rounds of LSAT India 2022 at the colleges will be held after the result is announced.
Q. When will the merit list of LSAT India 2022 be released?
A. The merit list of LSAT India 2022 is expected to be made available after the result is out.
Colleges Accepting LSAT India 2022 Scores
In 2021, about 17 law colleges in India associated with LSAC Global to offer admissions on the basis of LSAT India scores. Apart from that, about other nine law schools also accepted LSAT India scores of candidates for admission. Some of the top law colleges accepting LSAT India exam scores are:
LSAT India Colleges 2022

Vijaybhoomi School of Law

Kirit P. Mehta School of Law, NMIMS

MIT-WPU Faculty of Law

School of Law, UPES

Adamas University

VIT School of Law

Faculty of Law, Manav Rachna University

Bennett University

Alliance School of Law

BML Munjal University

Daksha Fellowship

Lloyd Law College

School of Law, Presidency University

GD Goenka University

VIT-AP University

Kalinga University

Asian Law College

School of Law and Constitutional Studies, SIET

ISBR Law College

GITAM School of Law

IILM University

Indore Institute of Law

Mody University

-
LSAT India 2022 Syllabus
The section-wise syllabus for the law entrance exam is as under:
Subjects
Topics
Analytical Reasoning
The section is based on the structure of relationships with logical conclusions, relationships based on things, persons or events, statements and conclusions, and some legal statements and relationships based problems
Logical Reasoning 1 & 2

The sections assess candidates' ability to analyse, critically evaluate, and complete arguments through logical reasoning questions based on passages (comprehension or legal).

The type of questions will be of statement-conclusions, reasoning by analogy, determining how additional evidence affects an argument, applying principles or rules, and identifying argument flaws.

Reading Comprehension
The section carries questions to assess candidates' reading and interpretation skills based on four sets of reading questions, each consisting of a selection of reading material, followed by four to nine questions that test reading and reasoning abilities.
LSAT India 2022 Exam Pattern and Syllabus
The exam pattern of LSAT India was modified last year, and the test paper structure was as under:
LSAT India Test Features

Exam Pattern Details

Exam mode

Online

Exam duration

2 hours and 20 minutes

Test Language

English only

Type of questions

Objective-type questions

Sections

Four subjects based on three subjects

Sectional weightage

23 questions each for Analytical Reasoning and Logical Reasoning 2

22 questions for Logical Reasoning 1

24 questions for Reading Comprehension

Total questions

92 Questions

Total marks

On a scale of 420-480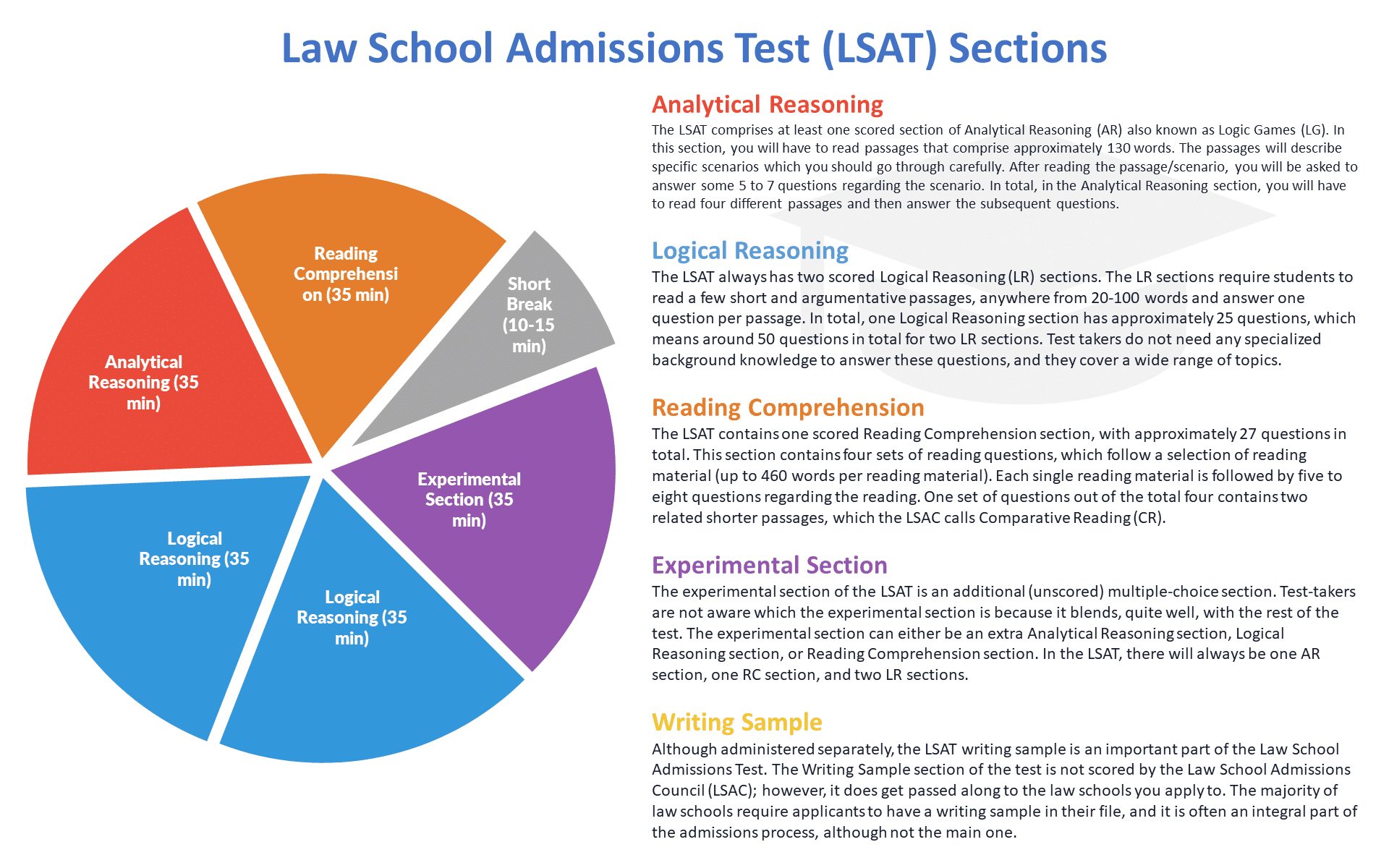 Looking for mock LSAT tests?
Look no further! We provide test series based on the actual LSAT pattern with solutions and analysis!
Click here for more!