Click here to download the official LSAT India Guide
What is LSAT India?
Law School Admission Test (LSAT) – India is an entrance exam conducted by the Law School Admission Council (LSAC) for admissions to undergraduate and postgraduate law courses. The test is conducted to shortlist law aspirants for admission in undergraduate and postgraduate level courses offered at various law colleges in India.
LSAT India 2022 Highlights
| | |
| --- | --- |
| Exam Name | Law School Admission Test – India |
| Exam Frequency | Twice a year |
| Exam Mode | Online |
| Exam Duration | 2 hours 20 minutes |
| Accepting Colleges | 85 colleges |
| Official Website | https://www.discoverlaw.in/ |
LSAT India 2022 Important Dates
Discover Law will release the LSAT India 2022 exam schedule soon. Given below are tentative dates for reference.
Events
Dates
Salient Features
Start date of LSAT India online registration
November 2021
LSAC starts the process of accepting the online application forms for LSAT India on the website,

discoverlaw.in.
Last date to apply with early bird prize
January/February 2022
Candidates need to submit their duly filled application form by the given date and win an early bird prize wherein they need to pay Rs 3,499 towards application fee.
Last date to fill application form for LSAT India exam before board exams
March 2022
Candidates have to fill and submit the application forms in all respects including fee payment before the last date of application.
LSAT India exam (before board exams)
March 2022
LSAC is likely to conduct LSAT India 2022 as a home-based online proctored test.
Last date to fill application form for LSAT India exam after board exams
April/May 2022
Candidates can fill and submit the application forms in all respect including fee payment before the last date of application. The application fee to be paid for LSAT India registration is Rs 3,799.
Slot booking for LSAT India exam
May 2022
Candidates can book a slot for LSAT India 2022 exam on the official website.
LSAT India 2022 exam date (after board exams)
May/June 2022
LSAC will conduct LSAT India 2022 again after the Class 12 board exams are over.
Results announcements
June 2022
The LSAT India result will be released on the official website and candidates can log in with their email ID and password to download scorecards.
Scorecard download
June/July 2022
Candidates can download the LSAT India scorecard 2022 from the official website.
Colleges Accepting LSAT India 2022 Scores
In 2021, about 17 law colleges in India associated with LSAC Global to offer admissions on the basis of LSAT India scores. Apart from that, about other nine law schools also accepted LSAT India scores of candidates for admission. Some of the top law colleges accepting LSAT India exam scores are:
LSAT India 2022 Syllabus
The section-wise syllabus for the law entrance exam is as under:
Subjects
Topics
Analytical Reasoning
The section is based on the structure of relationships with logical conclusions, relationships based on things, persons or events, statements and conclusions, and some legal statements and relationships based problems
Logical Reasoning 1 & 2
The sections assess candidates' ability to analyse, critically evaluate, and complete arguments through logical reasoning questions based on passages (comprehension or legal).

The type of questions will be of statement-conclusions, reasoning by analogy, determining how additional evidence affects an argument, applying principles or rules, and identifying argument flaws.

Reading Comprehension
The section carries questions to assess candidates' reading and interpretation skills based on four sets of reading questions, each consisting of a selection of reading material, followed by four to nine questions that test reading and reasoning abilities.
LSAT India 2022 Exam Pattern and Syllabus
The exam pattern of LSAT India was modified last year, and the test paper structure was as under:
LSAT India Test Features
Exam Pattern Details
Exam mode
Online
Exam duration
2 hours and 20 minutes
Test Language
English only
Type of questions
Objective-type questions
Sections
Four subjects based on three subjects
Sectional weightage
23 questions each for Analytical Reasoning and Logical Reasoning 2

22 questions for Logical Reasoning 1

24 questions for Reading Comprehension

Total questions
92 Questions
Total marks
On a scale of 420-480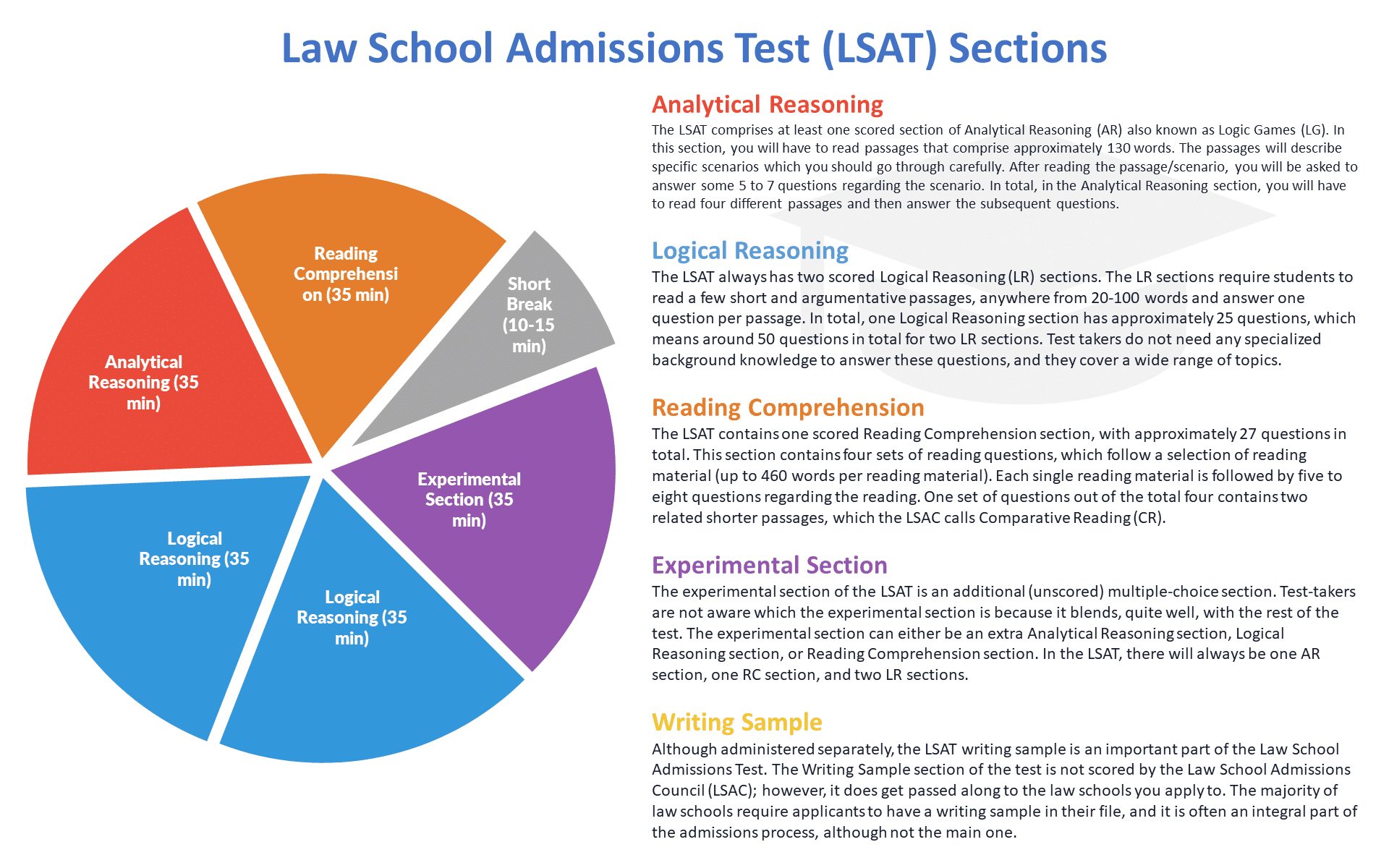 Looking for mock LSAT tests?
Look no further!
We provide test series based on the actual LSAT pattern with solutions and analysis!
Click here for more!