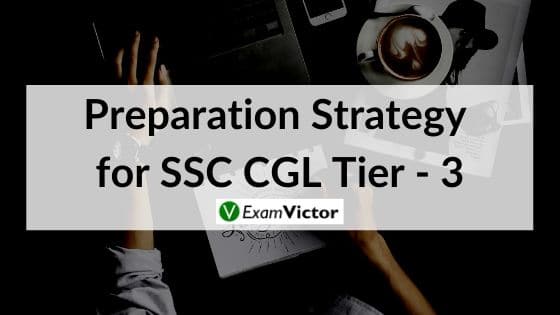 Don't use a 500 rupee word when a 5 rupee one will do.
Last Updated on Oct 31, 2020
It is known to every CGL aspirant that after qualifying Tier 1 & Tier 2 phase of SSC CGL Exam, you should appear for the Tier 3 Exam which is a descriptive test.  Earlier, the Staff Selection Commission used to take an interview or personality test. But from 2017, the Official Authorities have ended the interview process and introduced a new level in which they test the skills of the candidates.
It carries the same 100 marks that were earlier carried by the interview

This exam will be of qualifying nature but marks are included in the preparation of 

final merit

The paper will be 

bilingual

 i.e. you can write answer either in 

Hindi or English Language

The new pattern aims to test you on your writing skills. Therefore "Practice" is the Key to your success

To help you with English Writing we have the created specific blog posts on Essay Writing, Precis Writing and Letter Writing. You can read them by clicking on the links below:
Essay Writing Tips for SSC CGL Tier3 
Precis Writing Tips for SSC CGL Tier3
Letter Writing Tips for SSC CGL Tier3
You can improve your Writing Skills through given steps:
1.Improve Your Basics
For any competitive descriptive Exam, it is important to understand the nuances of the topic. But, when it comes to improving the writing skills, it is crucial to understand what needs to be done. Before you can start writing incredible Essays/Precis/Letters, you will need at least an intermediate level of understanding of the basic principles of writing.
In order to do it, you need to know the basics of grammar and spellings. Students should know the tricks to write exam-centric content and score maximum marks in the descriptive exam.
2. Students Should Write on a Daily Basis
"If you want to excel at something, you have to practice – and writing is no exception." 
Unfortunately, there are few shortcuts that can transform you into an amazing writer overnight, and even the most talented writers had to learn their craft over a period of many years.
As an SSC Exam aspirant, you need to cultivate writing habits. Frame drafts daily, read, edit and format them. Practice leads to perfection. Be in touch with someone who can judge your writing skills. Get feedbacks and work on them again to make it better.
3. Reading is the First Important Trick
The best writers are also keen readers, and reading on a regular basis is an easy way to start developing your writing skills. If you wish to score high marks in the descriptive paper, you will have to read first. Here we don't just mean blog and facebook posts, you need to do the diverse reading. Expand your horizons to the more challenging material than you typically read, and pay attention to sentence structure, word choice, and how the material flows.
Read about Science, Politics, Social Issues, Art and similar subjects, so that you can have sound knowledge of all relevant and important topics. The more you read, the more likely you are to develop an eye for what makes a piece so effective, and which mistakes to avoid. Finding a writing partner is also a great way to hold yourself accountable and keep going. Remember, you have to be the best in the business to qualify for SSC Exams.
4. Remember, Outlines are Essential
You need to make a plan for your essay in your mind first. Creating outlines is the very first step to write a wonderful article/essay. In SSC Exams, the topic is not irrelevant or difficult but it is the presentation of the idea, that matters most.
Before putting pen to proverbial paper, sketch out an outline of what you plan to write. If the topic you're tackling is a little more complex, your outline might have to be, too – but having an outline before you write is like having a roadmap in the glove box of your car before a road trip. If you start to feel lost, refer back to your outline and complete the Essay with ease.
5. Edit, Eliminate Unnecessary Words
If you have practiced well and are confident about your work, it is time to become your own harshest critic. Editing is a tough skill to learn for beginner writers because they place immense value on the time and effort they put into writing in the first place. Develop the discipline it takes to eliminate extraneous words.
First drafts are almost always below average, and that's okay. Don't beat yourself up if you don't create a masterpiece on your first attempt – chances are, you probably won't, and that's okay, too. Just get your ideas down on paper first, then go back and start cleaning up. Writing is an iterative process, and even the best writers have to spend a lot of time reworking material they were probably too embarrassed to show anybody.
Another common mistake among students is writing overly complex sentences in an attempt to "sound" more authoritative and knowledgeable. In many cases, shorter sentences can have a greater impact.
Summary
Through this blog post, we have provided you a detailed explanation on how to prpare for Tier-3 Exam. A simplified explanation is provided for every point which can help you while preparation. Key areas are mentioned which should not ignored.
To know more about our SSC CGL Course then please click on the link given below.
Looking for SSC CGL Exam Coaching?
You have come to the right place! We offer comprehensive online coaching for SSC CGL. We also offer comprehensive study material for these exams which you can access online or get at your doorstep through speed post.
Click Here to Know More